Dear Ministry Partner:
Sometimes, the second hardest thing to do is admit we need help. We like to believe that we can handle things on our own. The hardestthing, however, for us to do is ask for help. So here I go…..
We need your help! As you know, we do very little fundraising and rarely ask for financial help. However, the time has come. Unfortunately, as in any war, not all the battles are won. We are winning the war, but it comes at a cost. Sometimes it is three steps forward and one step back. This year there have been two significant events that have impacted our ability to generate operating income.
First, as you know, we are in a severe drought. This has cut our carwash income as much as $4,000 per month ($24,000 year-to-date). Unfortunately, there is no near end in sight.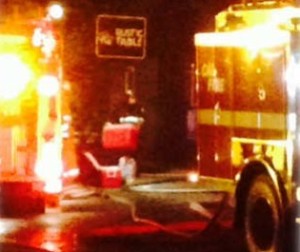 Secondly, around midnight on June 3rd, our men awoke to a fire that broke out at our lodge and restaurant, Sierra Woods Lodge, Sierra Pacific Teen Challenge. Fire trucks were called, it took 45 minutes for the Fire Department to arrive. During that time, the men at the lodge worked valiantly to keep the fire from spreading. Without their efforts, it may have been a total loss. Still, it caused $400,000 in damages and a potential $100,000 loss in business income.
If you are able to help, will you come alongside us and see us through these difficult times? Any support you can provide will go a long way. We continue to be faithful to our core value of stewardship by working hard, keeping our expenses at a bare minimum and being an example to our students of providing for ourselves where possible.
THANK YOU, LORD, NO ONE WAS HURT!!
On a positive note, we have seen our efforts at Sierra Woods Lodge blessed by God. In just one year, it not only supports itself, it fully supports a twenty-four bedmen's Teen Challenge Center (Sierra Pacific Teen Challenge) and now, prior to the fire, helps to support our whole organization.
A lot of great things continue to happen. Lives are changing. Families are reconciling. People are becoming active in their calling. Daily, men and women are turning from lives filled with abuse, gangs, violence, crime and homelessness to productive lives full of hope.
Last year, a very generous donor purchased a 21,000 square foot building in Santa Cruz County to house an expanded women's center. This year, after a favorable neighborhood meeting, Planning Commission Public Hearing and unanimous approval, and City Council Public Hearing and approval, we are well on our way to construction and operation of a ninety-four bed women and women with children Teen Challenge center and shelter.
Online donations can be made here through our web site. Just click on the red "Donate" button located throughout the site including the very top of each page. You can designate which center you wish your contribution to support. Please consider checking the "Monthly" box to make it easy to support us regularly. You will still receive a donation receipt by mail or email. Thank you in advance for your generous support. May you and your family be truly blessed.
God Bless,
Michael Borden
Executive Director